Are you sick of the the nervousness?
Are you finally sick of the…

Sweaty Palms?
Fear of Losing Your Train of Thought?
Endless Hours (or days) of Preparation to No Avail?
Racing Heart?
Butterflies in Your Stomach?
Shaky Hands or Shaky Voice?

Are you experiencing any or all of these symptoms?
Then, Fear Not! Your Solution is Right Here in HOUSTON!
In the past 12 years, over 20,000 people (1200 of them here in Houston!) have ELIMINATED their public speaking fear with the two-day Fearless Presentations® Public Speaking Class. I know what you're thinking… "Does this class really work?" And, "if it really does work, will it work for me?" First, you have to realize that public speaking is a skill, and you can't develop a skill by reading a book, watching online videos, or attending a seminar. People learn by doing and learn faster when they are having fun. So Fearless Presentations® isn't a seminar — it is an active participation workshop with a limited enrollment so every participant gets personal one-on-one coaching from an expert who makes a living speaking in front of people.
It Will Work for You Too.
What Exactly Is Fearless Presentations®
and How Does It Work?
Fearless Presentations® is a 2-Day Interactive Workshop
with Fewer than a Dozen Participants
Day #1 – Morning: Eliminate Presentation Fear
Improve Your Memory: You'll be shocked at how much your confidence grows when you realize you won't forget important points.
Reduce Nervousness: Practice Ten (10) ways to easily reduce nervousness and get a chance to master each step.
Get Away from Notes: We show you a turn-key way to be able to give your entire presentation without notes (and deliver with more confidence in the process).
Give Great Examples: Giving data is important, but the stories and examples that you tell to reinforce each point is more critical.
Stories Reduce Nervousness: Inserting examples and stories reduces nervousness significantly.
Presentation Secret: Our best presentation secret which reduces nervousness by up to 90% in seconds. (This tip alone is worth attending the entire class!)
Day #1 – Afternoon: Persuade Audiences with Just Your Words
Simple Three-Step Process to Persuade: Most presenters get peppered with tough questions because the audience wants to test them. Use this three-step process, and you will win your audience to your way of thinking instead.
Personal Coaching: Learn your strengths and weaknesses from our expert coach.
Impromptu Speaking: If someone does ask a tough question, learn a simple process to answer and persuade the critic in the audience.
Day #2 – Morning: Design and Deliver Compelling Presentations
Organize Your Thoughts: Organize your thoughts better so delivery is easier.
Add Evidence: Use stories, examples, data, and more to prove each of your points.
Showmanship: Practice ten (10) different ways to add impact to your presentation and make your content both believable and memorable.
Add Energy: The secret of all great presenters is their ability to add energy and enthusiasm to their content. We'll show you five (5) ways to add energy to even the most boring of topics.
Day #2 – Afternoon: PowerPoint and Visual Aids
Create Better Slides: Most PowerPoint slide decks are boring. We show you how to design your visuals to help your audience understand your content and continue to be engaged.
Final Presentations: Our coaches help each participant design (or redesign) a presentation from scratch using our time-tested techniques.
Question & Answer: Your coach will answer questions and give additional coaching based on the needs of the individual class members.
Where is It and What is the Investment?
Folks will often ask, "How much does it cost?", but a cost is something you pay for an item or a service. The Fearless Presentations Class® is an INVESTMENT. People who speak well command attention. People who can persuade others effectively become great leaders. And, in every single industry, the people who can communicate their ideas with control and confidence get paid more than those who don't, so a top-of-the-line presentation class like Fearless Presentations® is one of the best investments you can make in your career. Most national presentation class companies charge anywhere from $1499 to up to $3500 for a two to three day seminar, and most of these classes are huge seminars with very little coaching from the instructor. A good presentation coach will charge you $2500 to $4000 for a one-day coaching session, and although you will get fantastic attention and coaching, you won't get any real practice speaking in front of a real group.
Fearless presentations® is different. We give you…
Two (2) full days of interactive classroom sessions
One-on-one coaching from your instructor
Video recordings of keys presentations in the class
The best-selling book Fearless Presentations as a reference guide
The Leadership Principle Desktop Reference
And up to three (3) one-on-one phone coaching sessions with your instructor
The best news is that you get all of the extra content, the one-on-one coaching, and the phone sessions for about half of what our competitors charge — just $1395 per person. Private classes for from five (5) to twelve (12) people are just $6990. So whether you are a private individual looking to get a leg up on the competition or an executive looking to help your whole team improve, we have a solution for you.
Upcoming Houston Classes held downtown at
Two Allen Center, 1200 Smith Street 16th Floor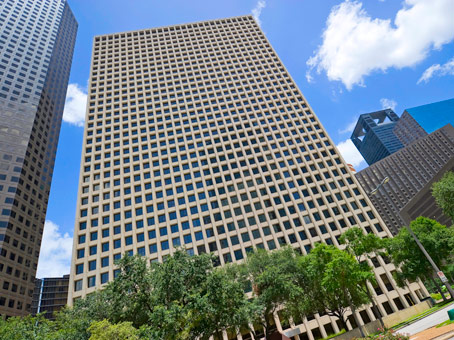 We conduct the Fearless Presentations ® class and presentation seminar in Houston, Texas at our office located at Two Allen Center, 1200 Smith Street 16th Floor, Houston, Texas 77002. The course takes place from 8:30 AM to 4:30 PM both days with a one-hour break for lunch around Noon. To register for any of the public speaking classes or workshops listed below, just click the appropriate link. If you need additional information before registering for a class, just complete the form at the bottom of the page, and one of our instructors will contact you or you can call an instructor toll-free at (800) 975-6151.
Tuition includes: (1) Participation Guide, (2) A copy of the book Fearless Presentations, (3) one-on-one coaching for each participant, and (4) recordings of selected presentations given by each course participant.
Not Sure Yet? Want More Information?
Complete the Form Below,and We'll Contact You
Even if you're not really sure whether this class is the best fit for you, go ahead and complete the form above or call us on our toll-free number, because you'll be in contact with one of our instructors immediately. He/she will often be able to help you right away, so don't wait!
---
Author: Doug Staneart, Date Published: 06/22/11
Doug Staneart is the CEO of The Leader's Institute. LLC and founder of the Fearless Presentations class. He is author of Fearless Presentations, Mastering Presentations, and 28 Ways to Influence People.
---
Comments Closed