The Leader's Institute® conducted its Fearless Presentations® public speaking class in Houston, Texas to participants who started out nervous and came out as very effective public speakers!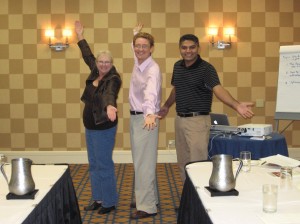 Since it was a small group, each participant received in-depth one-on-one coaching.  They were able to receive invaluable tools to overcome nervousness in public speaking, learn how to persuade an audience, and were given a simple way to design presentations in 15 minutes or less!  The Leader's Institute® conducts public speaking classes regularly in Houston, Texas and throughout cities in the United States.  It's the fastest way to become more effective public speakers, and have a lot of fun in the process!

For a Complete List of Upcoming Classes, Visit the upcoming presentation skills classes post. You can can click here for details about the Fearless Presentations ® class.