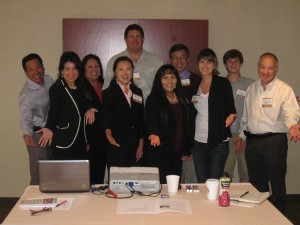 We had a nice surprise in our recent Fearless Presentations ® Los Angeles Public Speaking Class. We had our usual group of high level executives, but we also had a couple of teenagers preparing for the future. One of the participants was a young lady who was just about to start college, and her brother who is a sophomore in high school joined her. They added a lot of fun and energy to the class, and the the rest of the participants really welcomed them into the group. One of the things that we hear most often in the class is comments like, "I wish that I had taken this public speaking class 10 years ago (20 years ago... 30 years ago)," because once you eliminate that public speaking fear, doors that were closed tend to open up and opportunities tend to present themselves. These young people have a dramatic advantage as they enter into the workforce.
Don't be the person who says, "I wish I had". A Los Angeles public speaking class is scheduled about once every three months, and we offer Fearless Presentations ® in over 50 cities around the world. Visit the Fearless Presentations website for details.
For a Complete List of Upcoming Classes, Visit the upcoming presentation skills classes post. You can can click here for details about the Fearless Presentations ® class.