Fearless - the ultimate goal of our Fearless Presentation's course.   For many the thought of standing in front of a room full of people to talk about something that you may even know better than anyone else, is the last thing you want to do. But you need to do it.  It is part of your job.  You may have even missed promotions because of your fear and lack of confidence.  What a dilemma.  It does not have to be.  It is simply a matter of saying yes to training, learning new techniques, and coaching. Over the span of the two-day course held in Manhattan, some people grew from zero to sixty.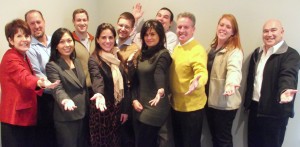 Everyone gained a structure that allowed him or her to relax even more.  A flexible, but powerful structure can turn memorized and struggling, into spontaneous and convincing presentations.  I could see the anxiety physically disappear when we used a different way of thinking and learning, and worked through one fact –
90% of all nervousness does not show!
It was like a sea of cartoon bubbles over the heads of participants.
Wow! What a relief.

I thought people could see my hands sweat, hear me every time I gulped for air. Nope!  Not at all.  Not one bit. There is no risk, no pushing or prodding, just safe, positive learning with coaching.  Yes, positive coaching that encourages and teaches.  Perhaps the best way to tell you about it is to share a comment by one of the participants, Jessica Albrecht.
"The best part about this program is that "the presentation" was broken into small, easy to understand, actions, and slowly advanced with time.  It all made perfect sense and evolved over two days – Brilliant!"
As the new year begins, becoming a stronger more confident presenter should be put right at the top of your "to do" list.  It can open new opportunities and advancement for you.  Invest in yourself and grow!
By Connie Timpson/Sr. Instructor/Performance Coach/The Leader's Institute