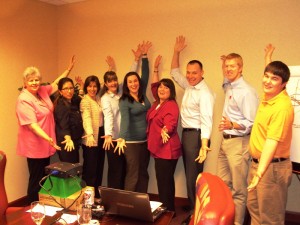 The Fearless Presentations ® public speaking workshop was held in St. Louis, Missouri where participants increased their presentation skills. The two day public speaking class focuses on diminishing the fear of public speaking while working to give an easy way to prepare a presentation that will relieve stress and at the same time streamline the preparation process. Many people have trouble preparing because the fear of making the presentation handicaps the efforts. This unique class begins by addressing the fear directly and then builds on that foundation to give each person the tools needed to prepare a concise, reliable and memorable presentation. During the class each participant gives 6 presentations that last from 45 seconds to 6 minutes.  During the presentations they get to put into practice the material covered and receive positive coaching from the instructor.
Many people think that public speaking is an art reserved for a few gifted people. But the truth is that anyone can improve their ability to do public presentations. Not everyone will become professionals, but everyone can learn what is necessary to help them become more competent in their ability and more confident in their delivery. The more introverted person can use their reliability and desire to get along with others to make great presentations and overcome they lack of boldness by understanding that people don't perceive their nervousness and by effective preparation and practice. The shy, logic-oriented person can use their organization skills and attention to detail to prepare solid messages while overcoming their inclination to give to much information by beginning with the audience in mind and not writing their presentation out word of word.
The outgoing, people-person learns that they can keep the fun and energy while at the same time adding more organization to their presentations by using a structured preparation plan and making sure do the necessary research to be an expert on the subject while refusing to just "wing it." The more dominant outgoing person can prepare well and use their innate confidence while making sure they don't risk alienating the audience by focusing on the desired results they are looking for and preparing with the audience in mind.
Great public speaking is not the result of personality or inborn qualities, but is a skill anyone can learn and be effective at. The 9 people at the Fearless Presentations ® workshop in St. Louis learned that by applying some simple principle they can improve their presentation abilities and continue to grow in their effectiveness in this arena.
For details about upcoming presentation skills classes in St Louis, click this link.