"Organizations with the most effective communications achieved a 91 percent total return to shareholders," according to Watson-Wyatt, a global consulting firm focused on human capital and financial management.  Currently, there is much discussion questioning the ability of federally run health care and big government in managing our tax dollars.
U.S. government agencies are taking action to improve the communications skills of their workers.  Employees from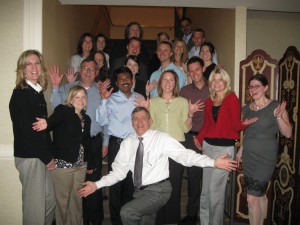 the Defense Intelligence Agency, U.S. Nuclear Regulatory Commission and Naval Sea Systems Command attended the Fearless Presentations© class in Washington, D.C. in early April 2010.  Other departments who enrolled students in the last couple of classes include the Social Security Administration, Environmental Protection Agency, Department of Defense, Food and Drug Administration, Department of Labor, the Veterans Administration, Freddie Mack, Federal Reserve Bank, Department of Justice, Department of Homeland Security, Department of Transportation, Marine Corps Systems Command, and the National Security Agency.
The Leader's Institute is working to improve our government one employee at a time.