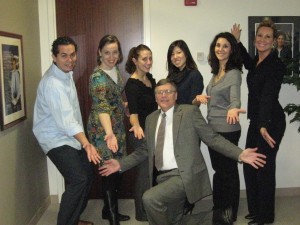 Recently the Life and Health Insurance Foundation for Education (LIFE) contracted for a public speaking class at their corporate headquarters in Arlington, VA. LIFE is a nonprofit organization dedicated to helping consumers make smart insurance decisions to safeguard their families' financial futures. Their goal is to help consumers better understand how insurance fits within their overall financial plans. LIFE also seeks to remind people of the important role insurance professionals perform in helping families, businesses, and individuals find the insurance products that best fit their needs.
Because their mission is education, public speaking skills are vitally important. Faisa Stafford, COO said, "Our group really enjoyed having the class and we all learnt so much. I may be interested in having you do one-on-one coaching with staff to continue the learning that began in the class. Thank you so much."
Rick Highsmith is a Senior Instructor for The Leader's Institute® and has taught thousands of students to improve their public speaking ability.