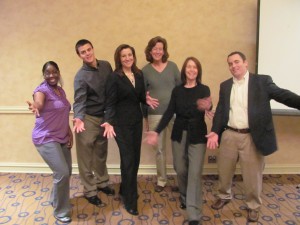 Last week, I flew into Atlanta, Georgia to teach a Fearless Presentations® public speaking course for a fantastic group of professionals. In the program, we had a doctor who was just elected to the Board of Directors at his local hospital, a couple of electrical engineers, a woman who designs iPad apps for a huge Fortune 500 company, a woman who calculates royalties for musical artists, and a professional trainer who works with insurance agents. A group like this really points out something that a lot of us really forget about public speaking fear -- presentation fear or stage fright is normal, and even professionals who speak every day can sometimes fall prey to the butterflies in the stomach and sweaty palms.
These professionals, however, have begun a journey to eliminate that public speaking fear. We covered 10 specific techniques that anyone can do, right now, to reduce nervousness, and we showed these professionals how the way that we design and deliver a presentation can either add to or eliminate public speaking fear. (And we had a blast in the process!)
If you'd like to join these folks in the fearless journey, register for an upcoming public speaking class at https://www.fearlesspresentations.com and make sure and like our Facebook page at https://www.facebook.com/fearlesspresentations.