Fifth Street Towers, 100 South Fifth St, 19th Floor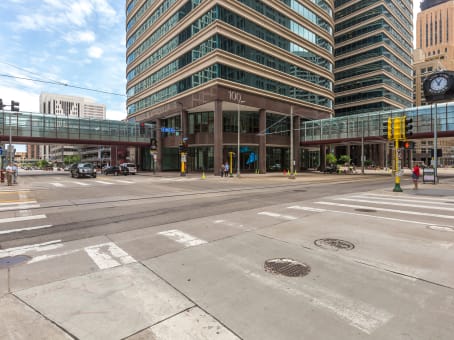 We conduct the Fearless Presentations ® class and presentation seminar in
Minneapolis, Minnesota
at our Regus office at
Fifth Street Towers, 100 South Fifth St, 19th Floor, Minneapolis, MN 55402
. This office opens at 8:30 AM, registration begins at 8:45 AM, and the course takes place from
9:00 AM to 4:00 PM both days
with a one-hour break for lunch around Noon. To register for any of the
public speaking classes or workshops
listed below, just click the appropriate link. If you need additional information before registering for a class, return to the
public speaking class locations
page and complete the form at the bottom of the page.
Minneapolis/St. Paul, MN presentation workshops
are scheduled about once every four months.
Don't See a Convenient Class?
Try a few of these cities that are fairly close to Minneapolis/St. Paul: Chicago, IL | St. Louis, MO | Indianapolis, IN
Or contact us below and let us know you are looking for a public speaking class. (We often schedule additional seminars and workshops based on folks, just like you, letting us know that there is a higher demand than the schedule that we currently have can handle.)
Let Me Know When You Schedule
another Minneapolis Workshop.
To register by phone or for more information,
call us toll-free at 1-800-975-6151 or complete the form below.
A Few Past Public Speaking Workshops in Minneapolis.
Fearless Presentations comes to Barr Engineering in Minneapolis, Minnesota The Leader's Institute® conducted its Fearless Presentations® class in Minneapolis, Minnesota for a group of 40 engineers who wanted to improve both presentation skills and their networking abilities within their own company. This was a half-day workshop where individuals at Barr Engineering could elect to take this course.  While some came into the class with "training ...
October 2012 Fearless Presentations in Minneapolis I had a lot of fun teaching another Fearless Presentations® class in Minneapolis recently, because Minneapolis was one of the first cities outside of Texas in which I began teaching public speaking classes way back over a decade ago when I started the company. Ordinarily, our MidWest instructor would have led this program, but he ...
---
Author: Doug Staneart, Date Published: 06/22/11
Doug Staneart is the CEO of The Leader's Institute. LLC and founder of the Fearless Presentations class. He is author of Fearless Presentations, Mastering Presentations, and 28 Ways to Influence People.
---
Comments Closed