Fearless Presentations ® class in Seattle transforms participants into confident, anxiety-free presenters. The Leader's Institute® didn't let the overcast weather bring down the mood for its Fearless Presentations® class in Seattle, Washington February 14-15.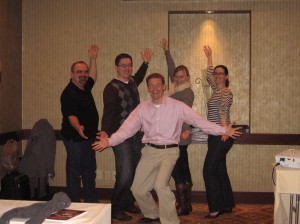 A few of the participants were so nervous when they had to speak that they had the shaky hands, sweaty palms, and other physical symptoms of nervousness. By the end of the two-day Fearless Presentations® class, they had gotten rid of their nervousness and couldn't wait to deliver their final presentations. One of the participants literally told the class to "watch out" for her final presentation. Now that's confidence! In addition to overcoming the fear of public speaking, participants were able to incorporate stories and examples into their presentations to make them more compelling and memorable.
In addition to traveling back to Seattle, Washington in August for its Fearless Presentations® public speaking class, the Leader's Institute® offers the class year round throughout the United States.  It is simply the best way to become a better, more engaging public speaker.
For a Complete List of Upcoming Classes, Visit the upcoming presentation skills classes post. You can can click here for details about the Fearless Presentations ® class.