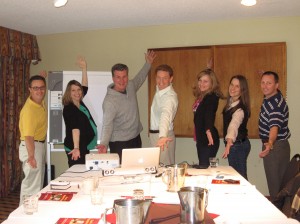 Fearless Presentations® class in Minneapolis Teaches Participants How to Engage Their Audience and Enjoy Presenting. The Leader's Institute® hosted its Fearless Presentations® class in Minneapolis, Minnesota to a great group of people who were determined to take their presentations to the next level.
The class starts off with giving participants a host of tips to overcome the fear of public speaking, and then quickly moves into having the participants practice activities in front of the group, which lead towards everyone delivering multi-layered, exciting presentations on the second day.
Fearless Presentations® comes to Minneapolis, Minnesota twice per year, and regularly comes to cities across the U.S. year-round.
For a Complete List of Upcoming Classes, Visit the upcoming presentation skills classes post. You can can click here for details about the Fearless Presentations ® class.