Two Allen Center, 1200 Smith Street 16th Floor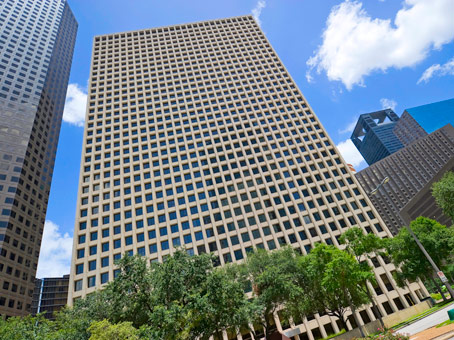 We conduct the Fearless Presentations class and presentation seminar in
Houston, Texas
at our Regus office located at
Two Allen Center, 1200 Smith Street 16th Floor, Houston, Texas 77002
. This office opens at 8:30 AM, registration begins at 8:45 AM, and the course takes place from
9:00 AM to 4:00 PM both days
with a one-hour break for lunch around Noon. To register for any of the
public speaking classes or workshops
listed below, just click the appropriate link. If you need additional information before registering for a class, return to the
public speaking class locations
page and complete the form at the bottom of the page.
Houston, TX presentation workshops
are scheduled about once every four months.
Don't See a Convenient Class?
Try a few of these cities that are fairly close to Houston: Austin, TX | Dallas/Ft.Worth, TX | San Antonio, TX
Or contact us below and let us know you are looking for a public speaking class. (We often schedule additional seminars and workshops based on folks, just like you, letting us know that there is a higher demand than the schedule that we currently have can handle.)
Let Me Know When you Schedule another Houston Workshop.
To register by phone or for more information,
call us toll-free at 1-800-975-6151 or complete the form below.
A Few Past Public Speaking Workshops in Houston.
January 2014 Fearless Presentations in Houston, TX Fearless Presentations workshop in Houston, Texas on January 6-7, 2014 hosted a small group of six.  Small classes offer the participant more one on one coaching, more time to spend on the different modules.  Fearless Presentations is a 2-day presentation skills class which gives participants the tools to deliver powerful introductions, learn how to most ...
Fearless Presentations workshop Houston Texas The Leaders Institute hosted a Fearless Presentations workshop in Houston Texas in April 2013.The group included employees from Hess, Chevron Oil and Invista Chemical Engineering companies. The participants were looking to improve their public speaking skills as their companies were requiring them to deliver presentations more frequently. The individuals had heard that the Leaders Institute ...
Statoil In-House Fearless Presentations Workshop in Alpharetta Georgia on December of 2012 Statoil, in Houston Texas learned that stories come I all shapes and sizes.  We like them because they can be very inspirational or have a very solid moral message.  They are the absolute best way to establish a positive rapport with your audience.  It can help make your speech memorable.  Most often, people will remember a ...
Comments Closed