Fearless Presentations ® class in Phoenix, Arizona helps participants become more confident speakers. Many of the participants in the class experienced a fear of public speaking and nervousness that was holding them back in their careers.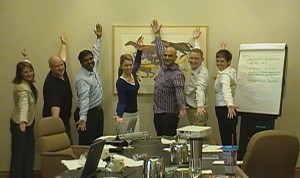 In the Fearless Presentations ® class, participants are able to overcome the fear of public speaking by immediately practicing the exercises that the instructor explains. By no means is this a passive, lecture-based class. Participants spend more time out of their seats than in their seats!  When they leave the class, they feel more confident not only about speaking in front of a group but also about the future of their careers.
Phoenix, Arizona is just one of the cities the Fearless Presentations ® class comes to in the U.S. throughout the year. Participants are guaranteed to reduce their nervousness and improve their public speaking skills.
For a Complete List of Upcoming Classes, Visit the upcoming presentation skills classes post. You can click here for details about the Fearless Presentations ® class.