While many people are thinking about buying presents and preparing for the holiday season, the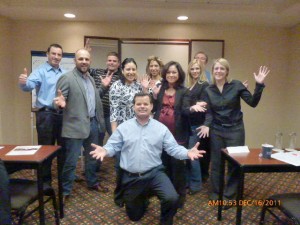 9 people who attended the Fearless Presentations ® Public Speaking Workshop prepared for a more successful future by improving their public speaking skills.  They came from as far away as Paris, France to Chicago, Illinois, with a common goal -- overcome their fear of speaking in public and learn a more effective way to deliver presentations.  Mission accomplished.  Everyone experienced major improvement in the increased confidence in their newly developed skills in public speaking.   They each got up in front of the group and delivered five well thought out and delivered presentations.  The Fearless Presentations Public Speaking Workshop is centered on the philosophy is that we have to have the right attitude to develop a new skill, we must learn the proper techniques to be a great presenter, and to practice the new skills.  But, participants found that the biggest difference between this workshop and others they have attended was the Real-Time Coaching performed by one of the Leaders Institute's ® qualified and experienced instructors.
Don't miss out on your opportunity to improve your ability to communicate by signing up for one of the Fearless Presentations ® Workshops in your city, or one close by.
For a Complete List of Upcoming Classes, Visit the upcoming presentation skills classes post. You can click here for details about the Fearless Presentations ® class.